The Intuos Pen and Touch is one of the latest entry-level graphics tablets from Wacom. As long-time Wacom users, we wanted to know more about the new design of this tablet, and what other features is has to offer. Our in-depth review below reveals all the details of our experience with the Intuos Pen and Touch Medium (CTH680).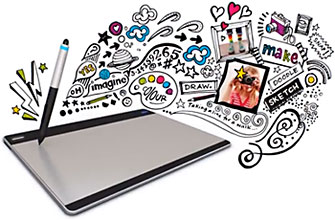 What's new about the Intuos Pen & Touch?
Before we get started, it's worth mentioning that this product line was previously called Bamboo, but the company has recently decided to consolidate all of their graphics tablets under the Intuos brand, while the name Bamboo is now used only for their stylus and touchpad products.
Along with the new name, there are a few other differences between Intuos and Bamboo Create (the previous generation tablet). The buttons are now positioned above the drawing area, rather than on the side, so it's no longer necessary to flip the tablet around for right or left-handed use. Also, the included Intuos pen has been improved. The new barrel is more contoured and closer to the shape of the Intuos Grip pen that comes with the higher-priced Intuos Pro. Both the colored ring on the pen and the pen holder loop on the tablet can be swapped out to add a touch of personalization.
What are the key features?
Aside from new aesthetics, the Intuos pen tip still recognizes 1024 levels of pressure, making it easy to change line thickness and opacity by varying how hard you press. If you are familiar with iOS or Android apps, you'll see how much more control you have with a pressure-sensitive graphics tablet. Plus the drawing surface is slightly textured, so it feels more like drawing on paper.
The pen nibs are replaceable, and a few replacement nibs are included in a small storage compartment on the back of the tablet. The eraser is handy for zapping out mistakes, and a programmable rocker switch on the side of the pen is useful to perform a right-click or double-click, which is much easier than tapping the tip of the pen twice.
We really like the multi-touch feature, which makes it possible to use the tablet as a large trackpad. Since it uses many of the same gestures as an iPad or tablet PC, using multi-touch feels very intuitive and responsive. It's nice to be able to pinch and swipe to zoom, scroll, rotate and even switch applications without having to take our hands off the tablet.
The four ExpressKeys can be programmed to perform many functions, including keyboard shortcuts like Save or Undo. One of the features that new (and even-not-so-new) users often overlook is the Radial Menu, which gives fast access to navigation and media player controls. Any ExpressKey or even the pen rocker switch can be programmed to bring up the Radial Menu, making it easy to skip tracks or adjust volume in iTunes, or quickly switch to an email app with one click.
Which size should you buy, small vs. medium?
Intuos is available in small and medium versions, and new buyers often ask us which size is better. Although it depends on the situation, we usually recommend the medium over the small, mainly because it's more versatile and allows for freer arm movements. A medium graphics tablet is generally big enough to work on details without having to zoom in like you would with a small tablet.
Another thing to keep in mind is that the actual drawing area is much smaller than the size of the whole tablet. The medium Intuos has overall dimensions of 10.8 x 8.7 x .4 inches (275 x 222 x 10mm) with an active drawing area of 8.5 x 5.3 inches (216 x 135mm). Relatively speaking, the whole tablet is roughly the size of a standard 8-1/2 x 11 sheet of paper, while the drawing area is the size of that same paper folded in half.
The Intuos is fully compatible with both Mac and Windows, and easy to connect via the included USB cord. For wireless use, there is an optional wireless adapter kit available (sold separately for about $40).
What software is included?
Wacom has kindly included a great bundle of apps to help everyone get started right away:
Adobe Photoshop Elements is a powerful application that can transform your pictures from snapshots to art. It's one of the most popular programs for editing photos and graphics.
Autodesk Sketchbook Express is an excellent program for freehand drawing and sketching.
Corel Painter Lite has a range of brushes and tools that simulate traditional media such as watercolors, oil paints and chalks.
Nik Color Efex Pro WE3 uses filters and overlays to add interesting effects to your images.
Our final verdict…
After reviewing the Wacom Intuos Pro Pen & Touch Medium, we think it's a very good combination of features and value. It's perfect for beginners and anyone new to graphics tablets, yet versatile enough that budding artists won't quickly "outgrow" it as their skills develop. This is a very good tablet for drawing, painting and photo editing as well as hobbies such as scrapbooking and paper crafts. We highly recommend that you try it for yourself and let your creativity shine!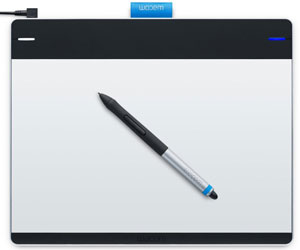 Get the Best Deal on a Wacom Intuos Pen & Touch Medium
Click the link above to get the lowest price on the Intuos Pen and Touch Medium. Have fun and let us know what you think of your new tablet!