The Wacom Intuos Pro Pen and Touch Medium Tablet (PTH651) is surprisingly similar to the previous generation Intuos5, but there are a couple of key differences, namely redesigned ExpressKeys and wireless connectivity. Are these seemingly minor improvements worth the investment? Please read our detailed review below as we find out…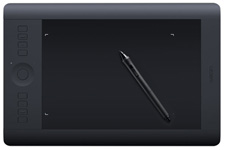 Want to try the Wacom Intuos Pro Medium Pen and Touch Tablet?
Click on the link above to get the best deal on your new Intuos Pro and find out about discounts and special promotions.
New Features in Intuos Pro Pen and Touch
At first glance, the Wacom Intuos Pro looks nearly identical to an Intuos5. The frame is covered in the same dark matte rubberized material and has the same sleek design. When comparing the Intuos Pro vs Intuos5 side by side, the only apparent change is that the ExpressKeys have been altered slightly. Whereas the Intuos5 buttons were smooth indentations, the ExpressKeys on the Intuos Pro are more flush and surrounded by a thin groove.
Though we didn't really have any complaints about the old buttons on the Intuos5, we were surprised at how much more we liked the new design. Each key is now easier to press, and the tactile bumps are more pronounced, reducing the need to look down at the tablet to find the right button.
The other difference is that the Intuos Pro now includes a wireless adapter which was not part of the package with previous models. It works up to 33 feet away, and frees us from cords that get tangled or knock things off the desk. Wireless capability also makes it much easier to set up and use our tablets during meetings and presentations. Of course, if you'd rather have a wired connection, simply plug the single USB cord into your Mac or PC. The cord has a right angle plug that can be looped for right or left-handed users.
First Impressions
The entire tablet measures 15″ x 9.9″ x 0.5″ (380 x 251 x 12mm) and small marks indicate the usable drawing area of 8.8″ x 5.5″ (224 x 140 mm). In our experience, this is the most versatile size for most applications, such as hand-drawn illustrations or detailed Photoshop work. The surface has a bit of texture, giving it slightly more resistance than older Intuos tablets. (Tip: If you prefer a smoother surface, you might like this third-party surface cover. It will also protect your original tablet surface from wear and tear.)
The rubberized barrel of the Intuos Pro Grip Pen is well-balanced and very comfortable to use. There's an eraser on top and a rocker switch on the side that can be set to perform functions such as click, right-click or double-click. The pressure-sensitive pen tip is designed to recognize 2048 levels of pressure and detect tilt up to 60 degrees. Those tech specs, combined with the tablet resolution of 5080 lines per inch, give us the ability to draw smooth lines that vary from wispy to broad in a single effortless stroke.
When not in use, the pen rests nicely in the pen stand, which also opens up to reveal a little storage compartment for the nib extractor and replacement nibs. Ten extra nibs are included (five standard, three felt tip, one flex and one stroke) and there are a few color-coded rings that can be used to personalize your pen, which is useful in a multi-user environment. We're also happy to report that the Intuos Pro pen and nibs are interchangeable with Intuos4 and Intuos5, and also compatible with newer Cintiq tablets.
Time-saving Productivity Features
Like all Wacom drawing tablets, the Intuos Pro is packed with features that save time and boost productivity. Multi-touch capability means the entire drawing area works like a big trackpad, so it's possible to use gestures like pinch and swipe to zoom in, scroll and rotate images. This is really useful since we don't have to take our hands off the tablet to reach for a mouse or trackpad as often. That being said, it can occassionally mis-read an accidental tap or brush of the wrist as a gesture. Overall, we found this to be a minor tradeoff, but if you find that it bothers you, you'll be glad to know that there's an option in the settings to turn off Multi-touch entirely.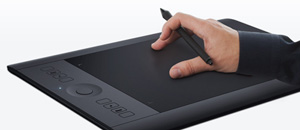 The Touch Ring is ideal to perform functions such as zooming, switching layers, and adjusting brush size. When dealing with video, it also works well as a shuttle dial for editing and compositing. Above and below the Touch Ring, the eight ExpressKeys (the small version has six) are ready to perform keyboard shortcuts, launch programs or open a frequently used file.
One of our favorite things about the ExpressKeys is that they can be programmed with application-specific functions.  For example, a button can be set to Undo in Photoshop, while that same button can be set to toggle displays in Sketchbook Pro.  For even more convenience, one of the ExpressKeys can be set to bring up the Radial Menu, a pop-up menu that gives instant access to things like media playback controls. This makes it easy to switch tracks & adjust volume for those of us that like to listen to music while we work.
A light tap on any button brings up an on-screen display showing the assigned functions for all of the ExpressKeys at once. This is handy since it can be hard to keep track of which button does what, especially with so many customizable options for different applications.
What software is included with Intuos Pro?
Wacom has included a bundle of several useful applications to get new Intuos Pro users started right away. The selection covers a variety of interests:
Adobe® Photoshop® Elements 11 is a full-featured photo editing program that can easily transform your snapshots to art.
Anime Studio® Debut 8 offers a good introduction to 2D animation. It includes a variety of drawing/painting tools, plus it can convert hand-drawn sketches or artwork from other programs into vector-based art that you can use to create your own animated cartoons and anime.
Autodesk® Sketchbook® Express is a handy program for drawing and sketching. If you have tried the iOS or Android version, you'll love how much more control you have with a pressure-sensitive graphics tablet.
Nik® Color Efex Pro 4 Select Edition is a collection of 26 filters that can be applied and combined to create interesting photographic effects.
Corel ®Painter™ 13 is a powerful application that provides a large range of realistic brushes and tools. Artists can simulate a variety of media such as watercolor, oil paint, charcoal, pastels and chalk. The included version is a 30-day trial, but Intuos Pro owners are offered the option to buy the full version for a discount.
Conclusion
Wacom markets the Intuos Pro Pen and Touch line more toward professional artists, photographers, video editors and designers, but users of all levels and creative backgrounds can benefit from this feature-rich tablet. There's a slight learning curve for beginners, but the controls are well-designed and intuitive. If you're on the fence about whether this tablet will work for you, our advice is try it and see how it fits into your own personal workflow. Is it worth the upgrade from Intuos5? We didn't think so at first… but soon we realized that the redesigned ExpressKeys are actually a significant improvement. We appreciate the fact that Wacom responded to user feedback and revised the design accordingly. It's also nice that the wireless adapter is included this time around. All in all, we figure that if the Intuos Pro continues to save us time and make our work more enjoyable, that's an investment we are more than happy to make.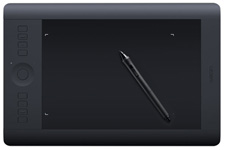 Get a great deal on your new Wacom Intuos Pro Medium
Click the link above to get the best price on your new Intuos Pro and find out about discounts and special promotions.