The Wacom Bamboo Fun Pen and Touch (CTH-661) is a versatile entry-level pen tablet that combines useful features with value.  The price has recently dropped even lower, so buy now to get up to 25% off the original retail price! As of this writing, the best price that we've found at a major retailer is at Adorama. Update August 8th: Sorry, Adorama has sold out of this product.  (We told you it was a good deal!)  Please click the link below to find the current lowest price.
First Impressions
The Wacom Bamboo Fun Pen and Touch is unique because it was designed to be both a pen tablet and a trackpad.  Although it still takes up a sizable amount of desk space, it requires less room than a separate tablet and mouse.  Plus, it's more convenient to be able to use one device for both drawing and screen navigation rather than switching back and forth.
As a trackpad, the Bamboo Fun recognizes finger taps and gestures for many actions such as zooming, scrolling, and rotating.  It seems to work well enough for basic navigation, but some users may find it slightly less responsive than desired, especially compared to the glass trackpads on newer Mac laptops.  One thing we tried to keep in mind is that many people buy this primarily as a graphics tablet, with the trackpad function being secondary.
Key Features of the Wacom Bamboo Fun Pen and Touch
With a drawing area of 8.5″ x 5.4″, the medium CTH-661 is the largest pen tablet in the Bamboo family.  The larger surface area simulates a canvas or drawing pad much better than a smaller tablet and enables more accurate screen mapping. It also allows the artist to use freer arm movements rather than confining the motion to the wrist alone.  This model features 1024 levels of pressure, which means that you can vary a line from thin to thick or from transparent to opaque simply by pressing down harder.
Like other Wacom graphics tablets, the Bamboo Fun Pen and Touch has features that help increase efficiency.  There is a set of four ExpressKeys which can be programmed to perform specific functions.  This is extremely handy for actions that are frequently repeated.  The cordless pen also has buttons that can be programmed for actions such as double click.  Since the stylus does not need batteries, it is light and easy to use.  There's also a handy little loop on the side to hold the pen when not in use.
Extras
As part of the included software bundle, Wacom provides license keys for Photoshop Elements and Corel Painter Essentials – two good applications that highlight the functionality of the tablet. There is also a Photoshop plug-in, Nik Color Efex Pro 3.0 WE3, but one thing to note is that the WE3 edition of Nik Color Efex only has three photographic effect filters compared to fifteen or more for the full paid versions.  Overall the included software is a nice touch that lets you start creating right away.  Registered owners of Bamboo tablets are also eligible for significant discounts on the full versions of Corel Painter 12, CorelDRAW Graphics Suite (Windows only), and several other programs, including options to create animation.
Conclusion
The Bamboo Fun would make a perfect entry level graphics tablet, especially for crafters and aspiring artists.  It is also a good way to experiment with using a pen tablet before committing to a more expensive model.  Although many users will find the Bamboo Fun sufficient for their needs, creative professionals and serious hobbyists may want to invest in the more robust features of the Intuos4 line.  For general home and office use, if you want a good graphics tablet at a reasonable price, try the Bamboo Fun Pen and Touch.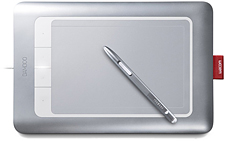 Get the Best Deal on a Wacom Bamboo Fun Pen and Touch
Click Here for the Lowest Price Ready to try the Bamboo Fun? Please click the link above to get the lowest price on your new tablet.
Related Links: