The Wacom Bamboo Create Pen and Touch Tablet (CTH670) is one of the newest additions to the Wacom family, replacing the Bamboo Fun Pen and Touch. It shares many of the same features that made the Fun so popular, but the Create has a cool new design and sleeker profile. It also has wireless capability (with an optional add-on adapter), making it even more versatile and easy to use.
First Impressions
Compared to the Bamboo Fun Pen and Touch, the design of the new Bamboo Create is a big improvement. The tablet is still mostly silver but now there are smooth black accents and buttons. The overall size is thinner and much less bulky, with an active drawing area of 8.5″ x 5.4″ — the largest of any Bamboo tablet. This is the perfect size for most users as it is big enough to make broad brush strokes and arm movements with the pen. The pen itself has also been improved and now has a softer rubberized grip rather than the smooth plastic-y feel of the stylus that came with the Bamboo Fun Pen and Touch. Like its predecessor, the Create can recognize 1024 pressure levels, so lines will smoothly graduate from thin to thick simply by varying how hard you press on the pen.
Features of the Wacom Bamboo Create
The Bamboo Create also features Multi-Touch, making it easy to navigate with finger taps and gestures. Even actions such as zooming, scrolling and rotating can easily be performed by pinching and swiping. This is very convenient since it can completely replace a separate trackpad or mouse, saving desk space.
In addition to the ease of Multi-Touch, there are four ExpressKeys that can be customized as shortcuts. You can program each one, then just click the button to perform that task. If you like to use keyboard shortcuts, you'll be glad to know that the ExpressKeys can even perform multiple keystrokes, so you won't even have to put down the pen to reach the Ctrl or Alt button.
One of the biggest changes over the Fun is that the newer Bamboo Create now includes wireless capability through an optional wireless accessory kit, sold separately. Although we didn't test this feature, Wacom says that a full charge will provide 10 hours of wireless use and the operating distance is about 10 meters (over 32 feet).
To help you get the most out of your new tablet, Wacom has bundled the Bamboo Create with some very solid software for both Mac and Windows. These extras add a lot of value to an already great product. Plus, for anyone new to digital art creation, there is a training DVD with lessons on how to use Photoshop Elements and Corel Painter Essentials.
What's included with the Wacom Bamboo Create Pen and Touch Tablet?
Autodesk Sketchbook Express is an excellent program for drawing and sketching. If you have tried the iOS or Android version, you'll see how much more control you have with a pressure-sensitive graphics tablet.
Corel Painter Essentials provides a range of brushes and tools to create digital artwork without the complexity of the full version of Painter. You can even experiment with different kinds of media such as watercolors, oil paints and chalks.
Adobe Photoshop Elements is a powerful application that can transform your photos from snapshots to art. It's one of the most popular programs for editing photos and graphics.
Nik Color Efex Pro 3.0 is a set of filters to add interesting effects and overlays to your pictures
Conclusion
We think the Bamboo Create is the best Bamboo tablet yet. It offers many of the features of more advanced tablets, such as the Intuos line, at a more affordable price. Plus, the included software bundle covers everything from drawing, painting, photo editing and more. Crafters will find it very useful for creating scrapbooks, invitations, and personalized gifts. With 1024 levels of pressure-sensitivity, it is a perfect entry to mid-level tablet for anyone who wants to get started using a tablet or upgrade from a more basic model, and the optional wireless capability adds even more flexibility. If you are still trying to decide if you should get a graphics tablet, our advice is to try out the Wacom Bamboo Create for yourself! You'll be very glad you did.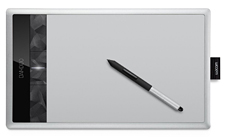 Get the Best Deal on Your Wacom Bamboo Create Pen and Touch
Click Here for the Lowest Price
Are you ready to try out the Bamboo Create? Please click the link above to get started!