Using a Wacom Cintiq 12WX Pen Display is an entirely different experience than using a regular graphics tablet. The main advantage is pen-to-screen input capability, which allows you to draw directly on the screen. This is the most natural, intuitive way to work and it eliminates the learning curve and adjustment of eye-hand coordination associated with other graphics tablets. Cintiq 12WX Pen Display
First Impressions
Compared to the larger and heavier Cintiq 21UX, we actually prefer the size of the 12WX since it is easier to maneuver and use comfortably, whether on a desk or a lap. It has an active drawing area of 10.3″ x 6.4″ (2.6 x 16.2 cm) and overall dimensions of 16″ W x 10.5″ H x .67″ D (40.6 x 26.7 x 1.7 cm), which is a just a bit larger and thicker than an Intuos4 Medium Pen Tablet.
There is a sturdy integrated stand on the back that can be adjusted to various degrees of incline, from a low slope to an upright position. A nice little feature we didn't expect is the small pivot centered on the back that allows the tablet to be fully rotated or spun when used on a flat horizontal surface. For users who prefer to keep their tablets stationary, four little rubber feet can be attached to the bottom instead.
Although the tablet itself is relatively thin and weighs only 4.4 lbs (2 kg), we wouldn't consider it very portable. Unlike Intuos and Bamboo tablets which are fully powered by USB, the Cintiq requires a power supply "brick" to operate plus a separate video converter box to connect the tablet to the computer via USB and DVI or VGA. The box is also used to calibrate the tablet and adjust display settings through an on-screen menu. Speaking of the display, the 12.1″ (diagonal) LCD TFT screen is clear and bright and has a native resolution of 1280 x 800 (WXGA) with 16.7 million colors. It can be set up as either a primary or secondary monitor.
More Features of the Wacom Cintiq 12WX Pen Display
The overall layout of the Cintiq 12WX will look very familiar to anybody that has ever owned or used an Intuos3 tablet. In fact there are several similarities between the two. Powered by Wacom's patented electromagnetic resonance technology, the 12WX can recognize 1,024 pressure levels and the tilt of the pen. There is a set of customizable ExpressKeys and a finger-sensitive Touch Strip located on both sides of the screen in order to accommodate right- or left-handed users. Each of the ExpressKeys can be programmed to perform a specific function or shortcut. The Touch Strip is a great feature that can be used to scroll, zoom or change brush size with the slide of a finger. Holding down on the top or bottom of the strip will result in continuous scrolling which is handy for large documents. Although the Touch Strip is very useful, sometimes it's a little too easy to inadvertently brush against it while drawing. Since most people will only use the buttons on one side, i.e. the opposite side of their dominant hand, it might be nice if there was a way to disable it, at least on the side that isn't being used.
Conclusion
For many people, learning to use a regular graphics tablet requires a significant (and often frustrating) adjustment in eye-hand coordination, especially if they are accustomed to traditional drawing tools. By contrast, the direct pen-to-screen input of the Cintiq interactive display, along with pressure and tilt sensitivity, makes the experience feel incredibly natural and intuitive. Since the tablet itself is so thin and lightweight, it's almost like a drawing in a conventional sketchbook. A tiny adjustment may be required, though, since the thickness of the glass can make the cursor seem slightly offset from the tip of the pen and the cursor has a tendency to jitter when near the very edge of the screen. Calibrating the tablet and downloading the latest drivers seems to improve performance, so we recommend doing so occasionally. Overall this is an excellent tool for artists, photographers, and professionals in any creative field. Although it costs more than a regular graphics tablet, we consider the Wacom Cintiq 12WX a good investment. By improving workflow and increasing productivity, it will pay for itself many times over in the long run.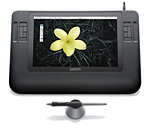 Try the Wacom Cintiq 12WX Pen Display
Ready to experience it for yourself? Click the link above to get the lowest price on your new Cintiq 12WX and find out about new sales and discounts.
More Online Deals:
Amazon: Click to See Price + Free Shipping
MacMall: $999.99 + Free Shipping Out of stock
Adorama: $939.95* + Shipping Out of stock
*For Adorama, you must click on this link and then click Add to Cart to see this special deal!
Related Links:
Intuos3 Pens compatible with the Wacom Cintiq 12WX