The Wacom Intuos4 Medium Pen Tablet (PTK-640) is an excellent tool to help artists and designers express their creativity in digital form.  As one of the best graphics tablets on the market today, it leads the way in terms of versatility and useful features. Read on for our complete hands-on review. Wacom Intuos4 Medium Pen Tablet
Important Update and Price Alert: Availability has become very limited for the Intuos4 since the recent announcement of the new Wacom Intuos5 Medium Pen Tablet (PTH-650). (Watch for our review coming soon!) The good news is that Intuos4 prices have dropped so now is your chance to get a great deal. We found a store selling the Wacom Intuos4 Medium Pen Tablet for less than $250! This special price is limited to remaining stock, so don't miss out!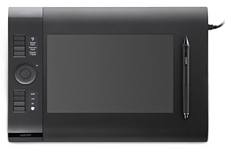 Get the Lowest Price on a Wacom Intuos4 Medium Pen Tablet
Click the link above to get the lowest price and find out about current sales and discounts.
First Impressions
The first thing we noticed about this tablet is that the design is very well-thought out.  The sleek matte black drawing area is complemented nicely by the glossy black strip and the soft bluish-white glow of the new OLED panel. The sloped, low-profile edges not only create a clean look, but are also more ergonomic since you can rest your hand or wrist comfortably without having a sharp edge pressing up against your skin.  The drawing area measures 8.8″ x 5.5″ — over 48 square inches of usable space.  This size is useful for illustrations or detailed pieces that require moderate precision and it translates to a decent resolution in terms of screen mapping.  The entire tablet can be reversed for right or left-handed use and there is an additional USB jack on the side to position the cord accordingly. This is an improvement over the Intuos3 which had a set of buttons on both sides and an integrated USB cord. On that note, we're happy to report that the cord is now detachable — a feature that many Wacom users (ourselves included) have been wanting for quite some time.
Key Features of the Wacom Intuos4 Medium Pen Tablet
The Intuos4 can detect 2048 levels of pressure, twice as many as either the Bamboo Fun or the previous Intuos3.  Combined with the new Tip Sensor technology and pen tilt recognition, the lightest touch of the stylus can easily be detected.  Soft, light strokes create fine wispy lines but more pressure makes the line wider and darker.  The pen itself has a rubberized, contoured barrel for comfort and the base of the pen stand holds an assortment of replacement nibs for various uses, such as a spring-loaded nib to simulate a more "brush-like" feel and an elastomeric nib that provides even more grip between the pen and drawing surface. For tasks that are more easily accomplished with a mouse, a cordless five-button version with scroll wheel is also included.
To make workflow more efficient, the Wacom Intuos4 has incorporated several new controls and features.  There are eight programmable ExpressKeys which can be customized to fit your individual needs.  One of our favorite new features is the illuminated OLED panel identifying the function of each ExpressKey. Use the preferences panel to assign an action to each button, then type in a label and your text will dynamically appear right there alongside the button.
Since ExpressKey functions can be application-specific, this visual reference makes it much easier to keep track of what each button does. It's also very useful when using someone else's tablet and for workstations with multiple users. The new finger-sensitive Touch Ring is similar to the Touch Strip on the Intuos3, except that it can be programmed to perform four separate functions. Pressing the center button switches between these functions, such as scrolling, zooming, adjusting brush size and cycling through layers.
Extras
The included software bundle lets you choose two out of three applications:  Photoshop Elements, Corel Painter Essentials and Sketchbook Express. There are also two Photoshop plug-ins: Wacom Brushes 3 adds several more brush choices to the standard selection, and Nik Color Efex Pro 3 WE6 lets you add six different photographic filters for interesting effects. Plus, registered owners are eligible for something that Wacom calls "owner privileges" — discounts up to 50% off on many relevant products such as the full versions of Photoshop CS5, Painter, and Sketchbook Pro.
Conclusion
Overall we're very pleased with this product in terms of both design and function. The texture of the drawing surface lends a natural feel, much like drawing with a pencil or charcoal on paper, and the special nibs simulate the feeling of traditional tools. The experience is enhanced even further with optional accessories, including an airbrush and an inking pen. Compared to the Intuos3, there are significant improvements which make it worthwhile to upgrade to the newer model. The new features, such as the Touch Ring and the OLED labels for the ExpressKeys, boost productivity and the improved pen sensitivity increases responsiveness. Although the medium Intuos4 is one of the most popular choices among professionals in art and design, many hobby and craft users will make use of the extra features as well. In short, the Wacom Intuos4 Medium Pen Tablet is arguably one of the best graphics tablets on the market today.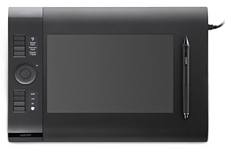 Get the Lowest Price on a Wacom Intuos4 Medium Pen Tablet
Click the link above to get the lowest price and find out about current sales and discounts.
More online deals:
Related Offer:
Get $25 Off + Free Shipping + a Free Hardcover Photo Album!
For a limited time, get $25 off plus free shipping when you buy your Intuos4 Medium graphics tablet from Adorama. (Please note that you must click the link above and then add the item to your cart to see the discounted price.) Plus, you'll also receive a FREE custom high-quality hardcover photo album. See complete details at the
Adorama website
.