The Wacom Intuos4 Wireless Tablet (PTK-540WL) is currently the only option for users who want a cord-free graphics tablet from Wacom. It is nearly identical to the regular medium-sized Intuos4 in terms of size and features, but the wireless version offers Bluetooth connectivity and the inherent convenience of cord-free operation.
Wacom Intuos4 Wireless Tablet
Update: The Wacom Intuos4 Wireless has been discontinued and availability is very limited due to the release of the new Wacom Intuos5 Medium Pen Tablet (PTH-650). The good news is that any Intuos5 tablet can now be used wirelessly with the addition of an optional wireless accessory kit.
First Impressions
Not only does the absence of wires provide a cleaner design, but there are numerous advantages to using a wireless graphics tablet from a practical standpoint. After using wired tablets for so long, we enjoy the sense of freedom that comes from being able to move about the room without worrying about cord length. A wireless graphics tablet has also proven to be useful in workplace settings during meetings or demonstrations. For example, the tablet can easily be passed around during a meeting so that participants can visually express their ideas more clearly.
The Wacom Intuos4 Wireless is a Class 2 Bluetooth device, which means that at maximum power it can transmit and receive signals up to 33 feet away (10 meters). Plus, unlike devices that use IR (infrared) signals, Bluetooth does not require a direct line of sight to function. Keep in mind that you will need a Bluetooth-enabled computer or laptop to use this tablet. Alternatively, a relatively inexpensive Bluetooth adapter like this one from Belkin may be purchased separately.
More Features of the Wacom Intuos4 Wireless Tablet
The rechargeable Lithium-ion battery in the Intuos4 Wireless Pen Tablet is user-replaceable — a good feature for users who don't want to send the entire unit in for service when the battery needs to be replaced. This is an especially important consideration for professionals who rely on their tablets daily and any downtime may result in missed deadlines. Once the USB cord is plugged in, the tablet automatically switches from Bluetooth to the USB connection and functions just like a regular wired tablet while recharging. Wacom claims a battery life of up to 18 hours, but so far our research shows that continuous use will yield somewhat lower results.
Aside from Bluetooth connectivity, the Intuos4 Wireless Tablet is very similar to the regular/wired Intuos4 Medium Pen Tablet.  The two look nearly identical at first glance, though the wireless version has a slightly smaller drawing area and does not include a mouse.  Another difference is that the wireless version comes with a small pen holder to attach the pen to the side of the tablet for use away from the desktop, in addition to the standard pen stand with nib storage compartment.  Other than that, the PTK-540WL shares the same features as the rest of the Intuos4 line.  It can detect 2048 levels of pressure and pen sensitivity has been improved so that the slightest touch will register.  There are eight customizable ExpressKeys plus the new TouchRing that can be programmed to perform a number of different functions.  The function of each ExpressKey is clearly displayed on the illuminated OLED panel next to each button, which is extremely useful when switching between applications or using someone else's tablet.
Conclusion
Wireless graphics tablets have several advantages, such as convenience, ease of use and a less cluttered desktop. So far the Intuos4 Wireless seems to perform well whether connected wirelessly or via USB and the useful features make it well-suited for artists and designers. Professionals will especially appreciate Bluetooth during off-site presentations where setup will be much easier without the hassle of wired peripherals. We would like to see Wacom add the ability to charge the battery separately, perhaps via an AC adapter. That way, an open USB port would not be required and a freshly charged battery could always be ready for that next big demonstration. Overall, we highly recommend this tablet.  If you don't need or want wireless capability, the regular wired Intuos4 Medium Pen Tablet may be a better fit (see our full review here), however, when it comes to wireless graphics tablets, there are currently only a few options and the Wacom Intuos4 Wireless Tablet is arguably the best choice.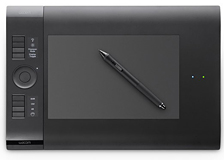 Wacom Intuos4 Wireless Tablet – with FREE shipping
Click Here to View Offer
Please click the link above to check the current price and find out about new rebates and special offers.
Other online deals:
Adorama: $369.00 + Shipping
Overstock.com: $366.49 + $1 Shipping
B&H Photo: $379.95 + Shipping
BuyDig: $348.99 + Shipping