The Wacom Intuos5 Touch Medium Pen Tablet (PTH-650) is the newest member of the very popular Intuos line of graphics tablets. Wacom has incorporated some great new features this time around, including multi-touch and wireless capability. If you've never had a graphics tablet, this would be a great place to start. If you own a previous version, it just might be a good time to upgrade. Read on for our complete review below.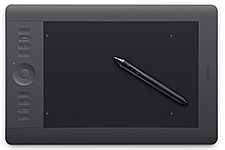 Get a Great Deal on the Wacom Intuos5 Touch Medium Pen Tablet
Please click the link above to get the best price on your new Intuos5 and find out about current discounts and special promotions.
New Features in Intuos5 Touch
The main feature that sets Intuos5 Touch apart from its predecessor is the addition of multi-touch. It's now possible to swipe and pinch away with one to five-finger gestures. We really appreciate being able to navigate, rotate, scroll and switch applications without taking our hands off of the tablet. For example, a quick four-finger swipe down will open Exposé on the Mac or Flip 3D in Windows. Most commands are recognized and work fairly well on both Mac and Windows, despite an occasional lag in the latter. If you're like us, it might take a bit to get used to the idea that you can use gestures on a graphics tablet. (Yes, we admit to reaching for the trackpad a few times out of habit.) Even so, it's a very convenient and welcome feature.
The other significant change is wireless capability. Previously the only way to go cordless was the (now discontinued) Intuos4 Wireless Tablet, which only came in one size. Now, *any* size Intuos5 can go wire-free with the optional Wireless Accessory Kit, sold separately for about $35. Installation is easy — simply install the module and rechargeable battery into the tablet and plug the tiny receiver into a USB port. It can operate at distances up to 33 feet (10 meters) away and doesn't need a "line of sight" to work, meaning the signal can pass through non-metallic objects like tables. No more worries about a stray cord getting caught on something and pulling the tablet — or even worse, a laptop — off the desk. At the office, wireless freedom is useful at meetings since it's easier to set up and move around during a presentation.
First Impressions – Familiar yet Different
After using Intuos tablets for so long, the thinner, low-profile silhouette of the Intuos5 Touch looks and feels somewhat familiar, yet different. Most notably, the entire bezel is now covered with a smooth rubberized surface that is much better for minimizing fingerprints. Even the buttons are completely covered with the same material, which eliminates crevices that can collect dust and debris. The textural uniformity and clean lines give it a very sleek, distinctive appearance.
The drawing area of the Intuos5 Touch Medium Pen Tablet measures 8.8″ x 5.5″ (224 x 140 mm) — over 48 square inches of usable space. In general, we find this is a useful size for most applications, such as illustrations or detailed work that requires moderate precision. The surface has a bit more tooth and there is no overlay sheet as with previous models, but this time there are small indicators to mark the boundaries of the actual drawing area, which is helpful in terms of screen mapping.
The tilt-sensitive Intuos5 Grip Pen has a soft rubberized barrel, virtual eraser and programmable DuoSwitch rocker. It's essentially the same standard stylus as Intuos4, which is a good thing since it is nicely weighted and comfortable. Wacom's patented Tip Sensor technology recognizes 2048 levels of pressure, making it possible to vary lines smoothly from fine and wispy to broad and bold. Using the Grip Pen feels fluid and responsive in Photoshop, Illustrator, Painter and all applications that we've tested so far.
The handy little pen stand is designed to hold the stylus either vertically or horizontally, plus it stores a nib extractor and ten extra nibs. (Five standard, one flex, one stroke and three hard felt nibs are included.) The USB cable is still detachable (thankfully), but now there is only one port, located in the center of the tablet's side. This isn't a problem for us, but might take some adjustment depending on how you use and hold your tablet. The entire tablet can also be flipped to accommodate right or left-handed users.
Other Key Features
Like its predecessors, the Intuos5 Touch has many features that save time and enhance workflow. The eight customizable ExpressKeys can perform shortcuts, multiple keystrokes or modifiers. They can be programmed with universal as well as application-specific tasks. If one of the ExpressKeys is set to bring up the Radial Menu, it will provide quick access to editing and media controls. Lightly resting a finger on any of the buttons activates Express View, an on-screen display that shows the assigned functions of all ExpressKeys and even highlights the specific button that is being touched. Although the cool blue OLED panel of Intuos4 was nice, we have to admit that the new on-screen display of Intuos5 is much more efficient since it eliminates the need to look down at the tablet.
The Touch Ring can perform four separate user-defined functions and a press of the center button toggles quickly between them, making it easy to zoom, scroll, cycle through layers or change brush size in drawing or photo editing programs. It also functions nicely as a jog wheel for video editing and compositing.
Intuos5 Touch Software Bundle
As usual, Wacom has included several applications to get new Intuos5 users started right away. The selection covers a variety of interests:
Adobe Photoshop Elements 10 is a useful application that can transform your photos from snapshots to art.

Anime Studio Debut is a fun way to get started in 2D animation. It includes a variety of drawing/painting tools, or it can import hand-drawn sketches or artwork from other programs, converting them to vector-based art that can be used to create your own animated shorts, cartoons and anime.

Autodesk SketchBook Express is a good entry program for drawing and sketching. If you have tried the iOS or Android version, you'll see how much more control you have with a pressure-sensitive graphics tablet.

Nik Software Color Efex Pro 4 Select Edition is a collection of 26 filters that can be applied and combined to create interesting photographic effects.

Corel Painter 12 is a powerful application that provides a large range of realistic brushes and tools. Artists can simulate a variety of media such as watercolor, oil paint, charcoal, pastels and chalk. The included version is a 90-day trial, but Intuos5 owners are eligible for a discount on the full version.

Conclusion

Overall the Wacom Intuos5 Touch Medium Pen Tablet is a solid and well-designed mid-level graphics tablet. Although we've been satisfied with Intuos4 for the past few years, we believe Wacom has taken a good product and made it even better. The whole experience is much more intuitive than before and the increased productivity makes Intuos5 a worthwhile upgrade. Multi-touch functionality makes it easier to keep our hands on the tablet without having to reach for the mouse or trackpad. With the new Express View display, we can keep our eyes on the screen rather than looking down at the buttons. Wireless capability makes this tablet even harder to resist. Art and design professionals will immediately benefit from these new features, combined with the outstanding digitizing performance that we've come to expect from Wacom. There might be a slight learning curve for anyone completely new to graphics tablets, but in the long run the Intuos5 Touch is an excellent investment. In short, we think the Wacom Intuos5 Touch Medium Pen Tablet is quite possibly the best Intuos yet.

Try the Wacom Intuos5 Touch Medium Pen Tablet

Please click the link above to get the best price on your new Intuos5 and find out about current discounts and special promotions.

More online deals: